Development of steel nails in the world
As early as 3400 BC, mankind had invented steel steel nails
I believe each of us has seen steel steel nails. steel nails are usually slender and cylindrical, with a pointed end at one end and a flat head at the other end. steel nails are usually made of iron wire, but there are also steel nails made of stainless steel, copper, aluminum, or bronze.
In 87 AD, the steel nails used in construction by the Roman legions were unearthed in Scotland
Nail is a kind of fastener, usually used to fix multiple objects together, mostly used in construction. It can be used to fix wood, but also to fix plastic, drywall, masonry or concrete. In the Western "Bible", other uses of steel nails are also mentioned: Eber's wife once nailed a nail into the temple of the Canaanite commander, King David specially collected them for the construction of the Solomon Temple, and Jesus Nailed to the cross.
As early as 3400 BC, steel nails made of bronze appeared in ancient Egypt. But until 1800, the steel nails were all handmade. They were made by "nailers" who burned the pig iron with one hammer at a time. Therefore, the steel nails are not only time-consuming and laborious to produce, but also very expensive.
Until the American Revolutionary War, steel nails were expensive and rare items.
During the Middle Ages, Britain was the world's largest nail manufacturer, and steel nails could even be used as an informal medium of currency for trading. Before the outbreak of the American Revolution, it was practically impossible for the nail to exist in the British colony. For American families at that time, steel nails were a rare item, not only expensive, but also difficult to buy. Therefore, many Americans will install a complete set of nail-making equipment next to their fireplaces. When the weather is bad or night comes, the entire family members will participate in the work of making steel nails.
Various steel nails invented by mankind in different historical periods
At that time, a wooden house required almost 20,000 to 30,000 steel nails. Therefore, before moving, people often burn down abandoned houses just to collect used steel nails from them. Later, this problem became more and more serious. In order to put an end to this chaos, Virginia even had to issue a decree prohibiting people from burning their houses when they moved.
The invention of the slitting machine brought the production of steel nails into the era of "cutting steel nails"
In the Middle Ages, in 1590, England introduced slitting machines. Slitting Mill (Slitting Mill) is also translated as rolling cutter, slitting machine, slitting machine. This new type of machine can cut iron bars or plates into appropriate sizes, making nailers more convenient, Make steel nails quickly. However, it was not until 1790-1820 that the nail-making process was truly mechanized. At that time, the United States and Britain invented various machines that could automatically make steel nails from wrought iron bars. The cut nail was born.
Workers using an old-fashioned slitting machine in a Swedish factory in 1734
As the name suggests, cutting steel nails are steel nails made by cutting steel sheets with a machine. They are also called "square steel nails" because their cross-section is roughly rectangular. The steel nails cut by the machine are stronger, can be used to bear heavier loads, and can also be used to renovate historic buildings. The invention of the nail cutter enabled the United States to quickly lead the way in nail manufacturing, and has since taken the lead in the world.
Jacob Perkins applied for a patent for the nail-making process in the United States, and Joseph Dale applied for a patent in the United Kingdom. Dell opened a factory in Birmingham, England, to make steel nails from iron sheets. Later, his factory expanded day by day, peaking in the 1860s, and then declining due to competition with wire steel nails.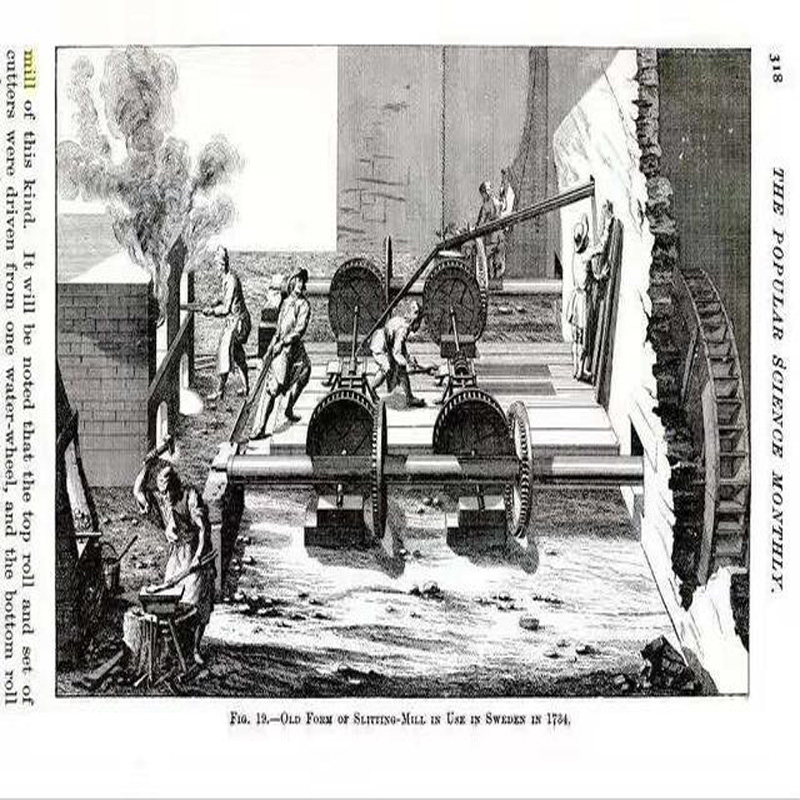 In the 20th century, wire steel nails finally "dominated the rivers and lakes"
Wire steel nails are also called French steel nails because they originated in France. In the 1850s, New York established several factories to manufacture wire steel nails. These machines are probably imported from France. The earliest wire steel nails were not made for construction, but for making pocket bookshelves and cigar boxes. It was not until the American Civil War that wire steel nails began to be accepted by the construction industry. Even in the 1890s, many builders preferred to use cut steel nails because of their stronger fixing power.
In modern society, humans have invented various steel nails according to different uses
In the next few decades, the nail-making process has advanced by leaps and bounds, the degree of automation has become higher and higher, and fewer and fewer artisans are required in the entire production process. steel nails are no longer expensive or difficult to buy, and hand-forged wrought iron steel nails are greatly reduced. At the beginning of the twentieth century, 90% of the steel nails in the world were wire steel nails. Because they were much cheaper, wire steel nails finally became the mainstream. Today, although steel nails are used for different purposes, almost all steel nails are made of iron wire-although the name "wire steel nails" now usually refers to smaller steel nails.
The manufacturing process of wire steel nails is as follows: put the bundle of iron wires (in fact, a thick and continuous iron wire) into the wire drawing machine for stretching, and when the diameter of the iron wire reaches the specified standard, put the iron wire into the nail making The middle of the two molds of the machine is cut according to the required length. In the next process, one end of the cut iron wire will be punched into a head, and the other end will be cut into a tip. The finished steel nails will be ejected by the machine at the end of the assembly line. If necessary, these wire steel nails will be ground, polished or electroplated. Under normal circumstances, a wire nail machine can produce 800 steel nails per minute on average.
Tips: Little knowledge about the use of steel nails:
When people use steel nails, they sometimes apply different types of glue on the steel nails. These glues can help the steel nails to hold the material to be fastened together more firmly. Some steel nails also have a machined ring or thread on the shaft, which can prevent the material from being easily broken. In addition, some steel nails that are often exposed to humid weather will use a galvanized coating to prevent them from rusting prematurely.
If you are in need of steel nails or steel nail making machine,feel free contact us.
Email:sales@metalwiremachinery.com
Mobile/whatsapp:+8615131132009