Autoamtic steel pipe cutting and chamfering machine

Material:Low carbon steel,stainless steel
Pipe thickness range:0.8-4.5mm
Pipe diameter:25-125mm
Cutting length range:50-1000mm
Speed:10-15pcs/min
Power:12.9kw
Voltage:380V 50Hz
Weight:2600kgs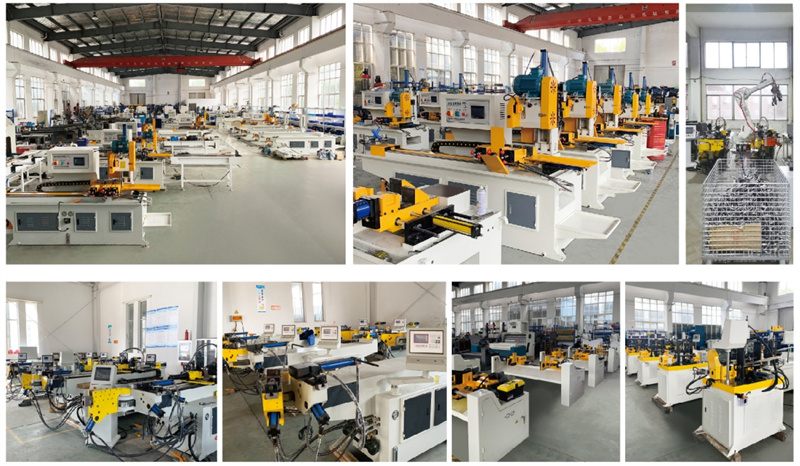 This machine can feed up to 1500mm at a time,servo feeding.
This machine can cut multiple pipes and cut φ25mm at least 4 pipes at one time.
The feeding can be repeated multiple times.
This machine can cut steel pipes of different pipe diameter (φ25-125mm) by changing the jaws.
Structure and action description:the pipe fittings are placed on the machine table,automatically clamping,automatic feeding,automatically cutting and cycled.
steel pipe cutting and chamfering machine is guaranteed for 12 months after delivery. The time is calculated from the date of final acceptance after delivery. During the warranty period, the supplier shall provide free warranty for manufacturing quality problems, and the user shall bear reasonable repair costs for other reasons. After the expiration of the warranty period, we will still provide good services and reasonable charges.
When pipe cutting and chamfering machine
is in use, if there is a failure, the supplier will respond immediately after receiving the notice from the buyer. If the problem cannot be solved directly by phone, the general failure will be solved within 48 hours, and the major failure will be solved at the fastest speed, in principle, no more than 72 hours (except holidays).
We send technician to buyer workshop to train how to operate the steel pipe cutting and chamfering machine , flight cost and accommodation be responsible by buyer, technician free for 2days, extra day salary cost is USD100/day
Contact us with following information
Email:sales@metalwiremachinery.com
Mobile/whatsapp:+8615131132009